Neurological & EEG Diagnostic Center: How We Improved The Conversion Rate from 0.31% to 14% in Just 3 weeks.
We met Victor through an online marketing channel and he is running a Digital Marketing Company. He runs a digital marketing agency based in Australia and hire's specialists from all over the world.
So they already had someone working for them on this project but no success. They were spending a good amount but still very few leads and even those were not the right ones.
We started Working on this project on: 20 Oct, 2021.
What We Analysed:
They were targeting the Whole USA, but it was supposed to be the local area only.
Poor selection of landing pages.
Poor selection of keywords.
Poor keywords match type selection.
Wrong audience age targeting
Display network selected.

Stats from May Month to Oct Month 2021
Clicks: 6,769
Spend: $633.06
Impressions: 237,255
CTR: 2.85%
Average CPC: $0.09
Conversions: 21
Cost Conversion: $30.15
Conversion Rate: 0.31%
Phone Calls: 4
Overall Conversions: 25
Overall Conversion Rate: 0.37%
What Changes We Made: Oct 20, 2021 to Jan 28, 2022 (Current Date)
After all the analysis and problems we found, we worked on the following things.
We created a landing page for services. To improve the conversions and to land the user on the right page for the right keywords.
We searched the keywords again and handpicked the most profitable keywords for the services and location.
Improved the ad copies according to the keywords and landing page on the basis of user behavior.
Location targeted on the basis of the business targeted area. 20 Miles Radius only.
Selected the age group.
See the results in the next image.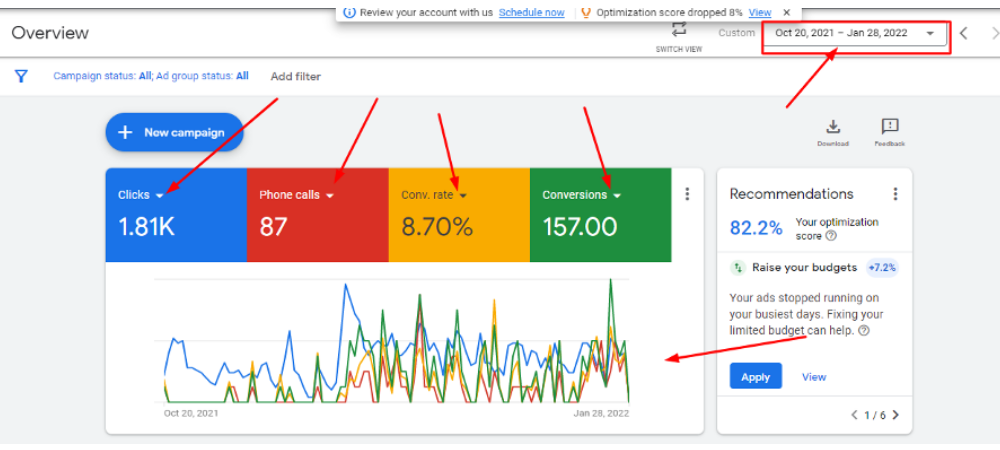 Stats from Oct 21, 2021 to Jan 28, 2022 (Current Date)
Clicks: 1,805
Spend: $4,053
Impressions: 54,032
CTR: 3.34%
Average CPC: $2.25
Conversions: 157
Cost Conversion: $25.82
Conversion Rate: 8.70%
Phone Calls: 87
Overall COnversions: 244
Overall Conversion Rate: 13.52%
Outcome: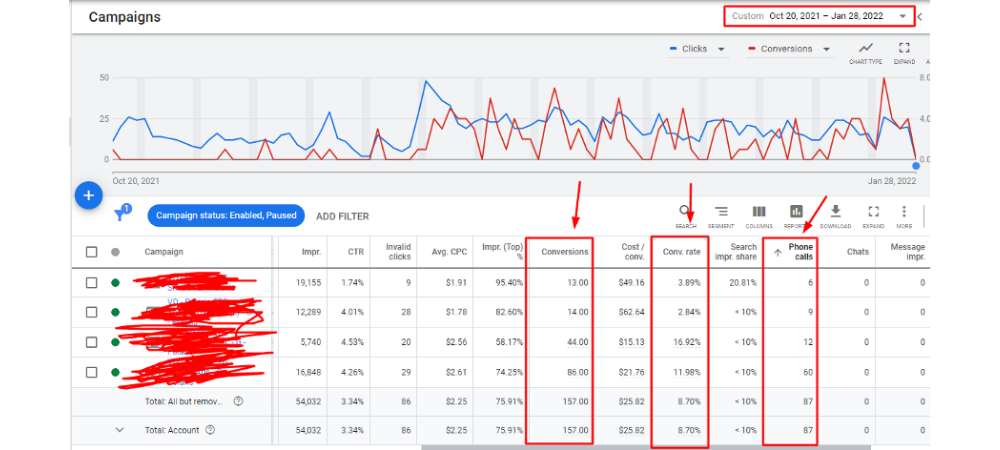 Notes:
Cheaper CPC Doesn't mean you are doing Good.
Target the right location
Select the right keywords
Create a converting landing page, this is very important.
Communication is the key.