How We Helped a Spanish Manufacturer
In early October 2018, a plastic manufacturer from Spain came to us for help. Their biggest complaint was that the website was not generating any leads after more than 8 months of paying 2 different SEO companies.
When we did a high-level site audit, we noticed that BOTH her previous SEO agencies had only been doing spammy back-linking to the site. They even created tens of "thin" and useless content that was written using a software called an article spinner. This software spins dozens of spammy variations of the same article and publish them on free blog pages such as Blogspot, Medium, hosted WordPress, etc. They then use "exact match" anchor text to back-link to the client's site.
This is the typical Web2.0 SEO blackhat technique that was very prevalent among cheap SEO services. It is based on the archaic idea that if there are many backlinks to a site, then it must be popular and should rank highly.
Initially, traffic increased to the site but they were purely rubbish ones which came from untargeted traffic, mainly from spammers.
See the chart below on what happened next.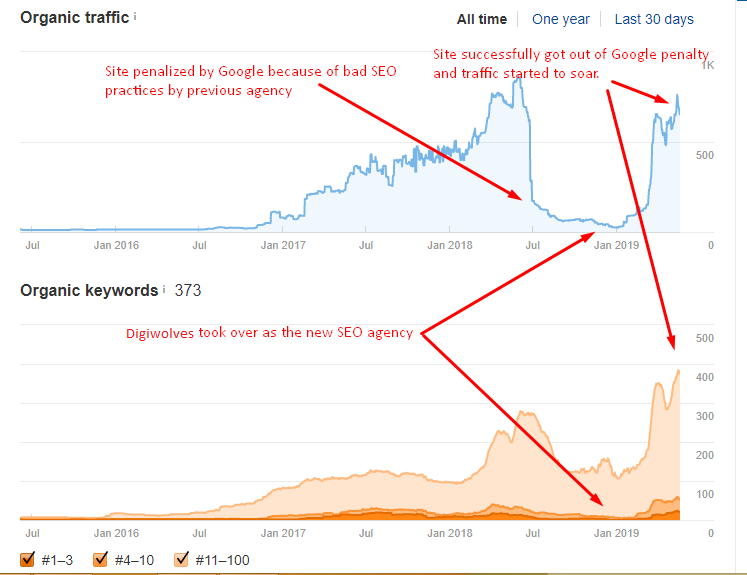 In July, the website was penalized by Google and traffic to it almost totally stopped. The client did not actually feel the pinch because in the very first place, even though traffic was coming in, none of it resulted in leads nor business. This time, not only there were still no leads, there was also no traffic coming in.
DigiWolves took over the client in late October 2018 and we immediately went to work. We contacted Google to disavow all the spammy backlinks and rubbish "thin content" that was linking back to the client's website.
Next, we started creating strong content and silo-ing these to their important product pages to give "topical relevance" to each product. Then, we did banklink outreach to related blogs and also increased local/international citations for the site.
Our team worked hard to speed up the site by reworking on its internal site structure. We also optimized each and every page of the site by putting proper schema markups, header-tags, descriptions, etc.
One other major challenge of the site was because of its 2 different languages (Spanish and English). Each of the language version was totally cannibalizing the other in terms of keyword ranking in Google. This resulted in what we call the "Google dance" where Google does not know which page in the site is to rank for the targeted keywords.
Our SEO Solution
We splitted up the site into 2 different sub-domains and optimized them separately. The Spanish version was optimized for local search and the English one for international.
At the same time, we helped them claim their "Google My Business (GMB)" asset and linked it to the local Spanish version of the site. This totally helped to rank highly in Google's Spain database for local search and also on Google Maps.
After we took over, the website came out of the Google ban in early 2019 and traffic has been soaring ever since.
The manufacturer has increased its sales support team just to reply to dozens of incoming and genuine leads per week. All of them came from global and local clients that found the website using hundreds of high-intent product search terms in Google.
Conclusion
SEO is NOT only about tweaking page titles, header-tags, meta-descriptions or keyword-stuffing. For the cheap and bundled SEO packages you see everywhere online, back-linking is their most toxic weapon of choice as it can be outsourced cheaply to VAs (Virtual Assistants) on Fiverr or Freelancer.com.
Those mentioned above are very basic and crude "tactical" SEO techniques but the higher-level STRATEGY is not addressed. To rank highly on the SERPs (Search Engine Results Page), your website needs to be handled holistically.
There are more than 200 ranking factors in Google and each of the factors have different weightages, depending on situations.
Is the site searched on mobile vs desktop?
Is it a local or international search query?
What is the searcher's intent? Is it to buy, research, compare, watch, etc?
What is the competition of the search query?
And.. loads more other subjective situations. If an SEO agency has no understanding from a strategic-level but only on a tactical-level, then oftentimes, they will use aggressive tactics that can get your website banned.
Feel free to talk to us on our online chat or just submit your questions on our contact form. We would love to advice if you need help.