Importance of Topical Authority, Coverage, and Contextual Hierarchy for SEO: From 0 to 128.000 in 123 Days and 12.000 Organic Clicks per Day
Mostly through a real-world SEO Case Study, using Contextual and Conceptual Hierarchies with Topical Graphs to satisfy all the macro and micro Search Intent inside a Semantic Search Network will be presented in this SEO case study. This compromises four different kinds of SEO stories & projects. In 123 days, the primary SEO project went from 0 to 128.000 organic traffic and 12.000 organic clicks per day in 162 days.
This article covers SEO Terminology, Theories, and Concepts at a high & advanced level. It also includes an Executive Summary. You'll see the background of the four SEO Projects and the similar methodology's consistent SEO outcomes below.
Also if you want, you can read a shorter executive summary that focuses on the Second Site's SEO Project mainly and contains only actionable points that have been published on OnCrawl.
You'll see the past 28 Days Comparison from 27th of November, Google Search Console below:
This Google Search Console screenshot has been taken on 5th December, Saturday as the Last 28 Days Comparison. On November 27th, this screenshot was captured.
Below, you'll see the Last 28 Day comparison from the 29th day of December.
The traffic has been doubled every month, and for the last month, it has been tripled.
You will see the Last 28 Days comparison below from the 29th day of January.
And, this is the last 28 Day Comparison until date.
You'll see the last 6-month graphic from Google Search Console.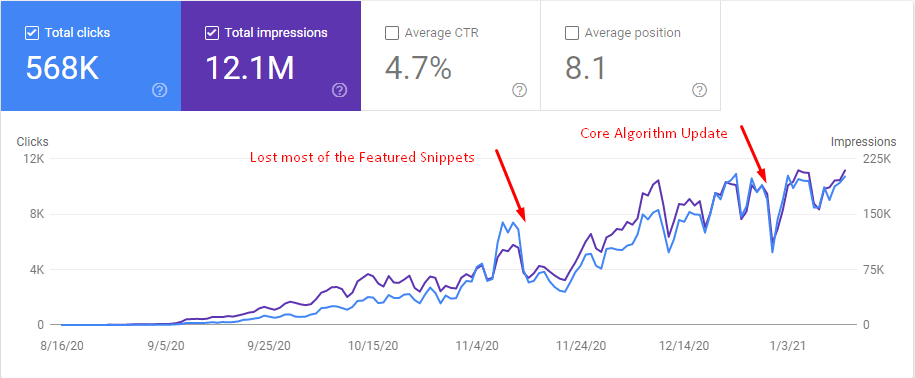 A view of SEO journey. Google released two minor Google Updates on November 14th, 15th, and 17th. The featured snippet amount has been decreased by 2.5% globally. Only a few positions altered. There was also a server crash on the same day. We also lost all of our Featured Snippets in a single day. The second decrease on the graph for the Google Search Console Screenshot for the SEO Case Study Site was caused by Google's January 2020 Broad Core Algorithm Update.
My major purpose for this SEO project is to generate 1 million organic sessions in 12 months. But I'm not sure whether I'll be able to achieve this after losing these two minor Google Updates that are primarily focused on Featured Snippets and maybe coming Passage Indexing.
Below is a screenshot was taken on December 6, 2020, two days following the December Core Algorithm Update.
As you can see, I was able to recoup the majority of the lost traffic by being consistent.
We'll show how Google looks for the user's satisfaction after a click and how a URL may be more authoritative and satisfying for the users and Google's algorithm in terms of the information and function it includes.
You'll see the graphic for all of November 2020 below:
Comparison of Organic Traffic in November 2020 for the SEO Case Study.
You'll see the December 2020 Organic Traffic Report from Google Search Console below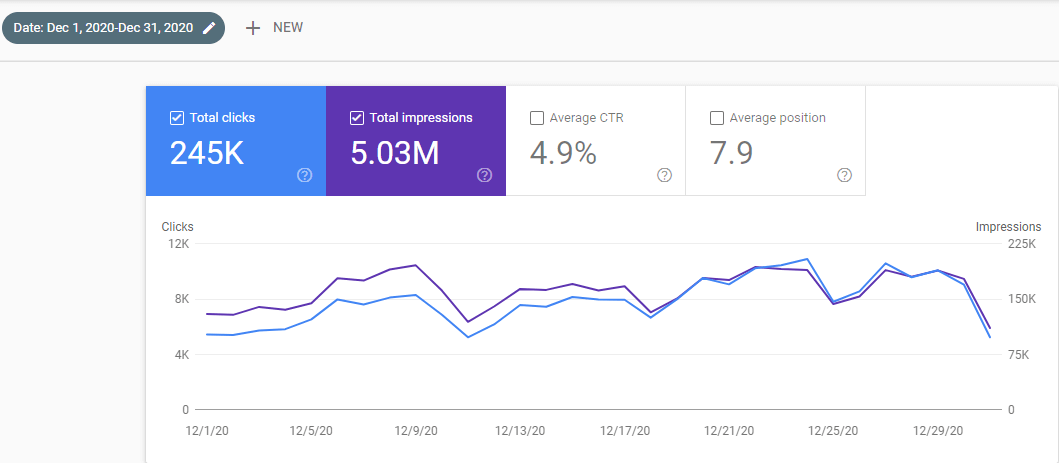 You may observe there is an increase of around 100% or even more for every month – December 2020 Organic Traffic Situation.
In this SEO Case Study, I'll concentrate on the actual strength of SEO's theoretical side on SERP. I know at this point, everybody must have the same question on your mind. Normally I would not reveal the website's identity because the project's goal is to reach 1 million organic sessions per month, and the SEO effort is still growing. However, Elias Dabbas, whom I regard as a mentor, provided me with "as always" reasonable comments.
You can see the rapid traffic increase from SEMRush's Organic Search Sensors for the "First Site".
That's why I'm explaining the name of the domain. More importantly, you may view "Most Prestigious SEO Crawler: OnCrawl Review," Google Search Console Data for the relevant domain, and all Technical SEO Analysis. So you can see that with simply "Semantic SEO" and SEO, I was able to accomplish meaningful results with a website that had a lot of mistakes.
Getwordly.com is the name of the website (First Site). As you can see, all of the organic traffic growth success was based only on SEO Theories and Semantic SEO, not on Technical SEO, Pagespeed Optimization, Brand Power, or Advanced Layout Design, as I said and explained throughout the article.