SAAS SEO Case Study – From 100 to 22,000 Visits In 8 Months
This client was both non-US and even Non-English – It's a French Site. We had to first create an English-US version of the website and enable a multi-language website. The domain was receiving barely zero visits from Google and even less from the English version.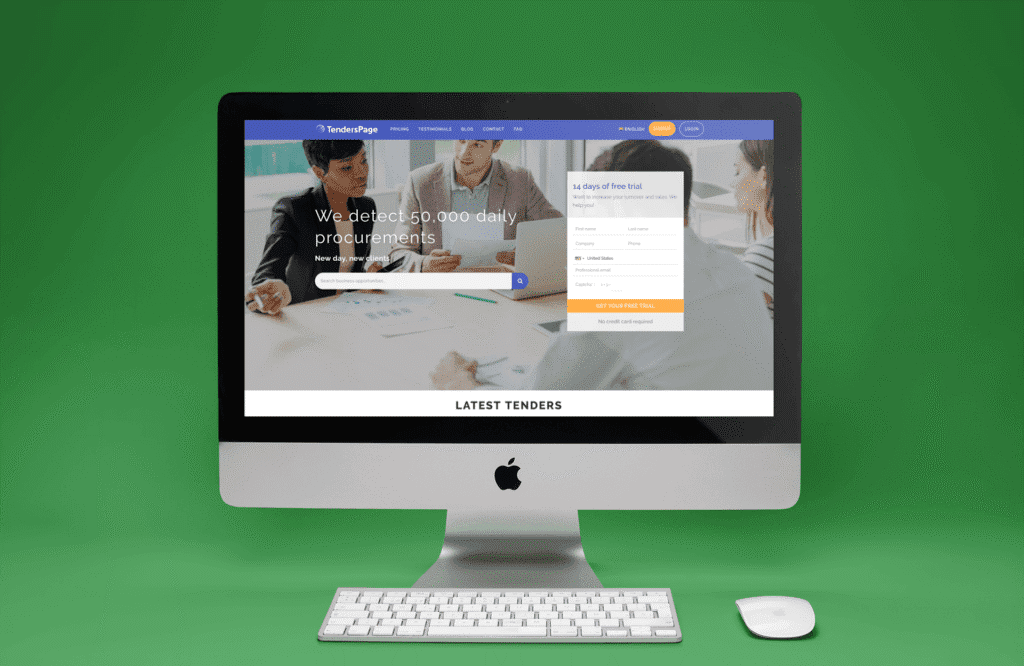 Audit
We always start with an audit. This site had no penalties, it just wasn't getting much traffic. They were slightly over-optimized for their money keywords, having 1 exact match at 28% and another at 25%. This wasn't a big deal, as they just didn't have many links, but still a consideration.
Analyze – Find "Hidden Money Keywords"
This website had fewer keywords ranked than some other sites. Traffic is also lower than other niches, but it will convert higher since there is higher intent.
We found 43 terms with traffic between 20 – 18000 searches a month, with CPC between .20c – $25 a click. We started by focusing on some high priorities around the $4-$5 a click range.
Competitive Gap
We found 31 terms between 20 – 1,600 million searches per month with CPC between .10 – $3. Some of these were local areas they hadn't targeted yet, some of these were popular brand names of organizations that they work with, and some of these were great keywords for services they offer that they don't have content for yet, or weren't optimizing. We showed them all of these.
Their first commitment with us was placed on May 2017, and a few weeks after that, they got a nice bump. They started ramping up orders with us around July 2017 with a mix of SEO Link Building, Press Releases, Blog Content, and Guest Posts:

Example of one of their money Keywords:
Keyword: Request For Proposal
Search Volume: 18,200 searches per month
Results in Google: 274,000,000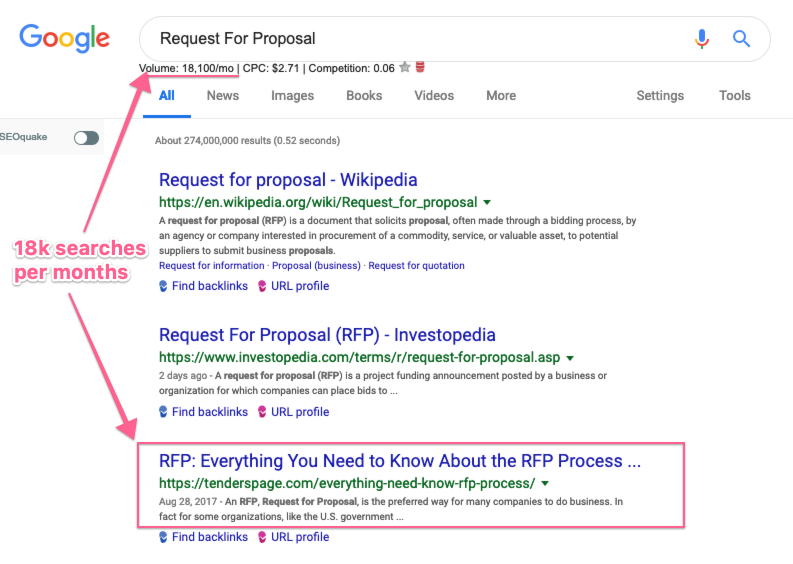 Not Bad! This keyword alone brings them around 6,000 visits per month! When you know that 98% of people stay on the first page of Google search results (And 75% only look at the first 3 results), this is a place you don't want to miss.
Remember we have limited options, this is an international AND foreign language without any traffic, so here's what the strategy looked like:
Month 1
small SEO Link Building
Mix of Natural, Branded, and exact match since we have control
Press Release
Month 2-6
Medium SEO Link Building
Mix of Natural, Branded, and exact match since we have control
2 Guest Post DA30 and DA10
2 Blog Articles SEO Optimized per month
Month 7 and 8
Medium SEO Link Building
Mix of Natural, Branded, and exact match since we have control
2 Blog Article SEO Optimized
BOOM!
What's even cooler is that to get up to 20,000 visits in 8 Month, the Organic SEO cost was only $24.000. However, for the same results the analytics software Semrush is reporting an equivalent pay per click cost of $63k PER MONTH.
$63,000 per month = $756k per year they would have to spend on PPC advertising to get the same results!
Takeaway
The takeaway from this is that consistency is key. As you can see from the charts above, their traffic is regularly increasing and bringing more clients months after month.
By using our SEO strategy, you can uncover big wins for consistent results. No matter what type of business you are in, we probably have a solution for you. In addition, it's important to not focus on tons of traffic – focus on the RIGHT TARGETED traffic.